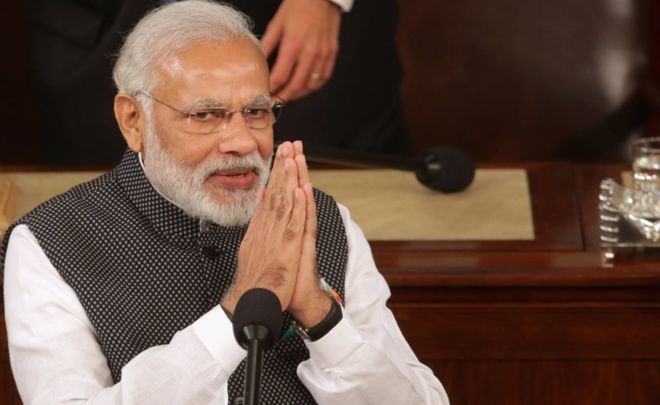 N Sathiya Moorthy 25 March 2020
Possibly for the first time since Prime Minister Indira Gandhi called upon the nation to donate/sacrifice for the 'Bangladesh war' efforts, and also suffer blackouts at nights with patience and pride, has the nation reacted so very positively to the government's diktat, says N Sathiya Moorthy.
The truth remains that there is no known cure to the covid-19 pandemic. The nation may possibly not have adequate number of testing kits. Worldwide, they are anyway in short supply. And our exporters did whatever best they could do before the government clampdown, to rid the country of as many face masks and hand gloves. Making a fast buck was the name of the game.
The issue if the government at the Centre and those in the states started off too late with their alerts and 'Janata curfew' for them to be effective is debatable. When people refuse to cooperate with the government in accepting the curfew, cheat on the authorities — and themselves — on airport scanning and home quarantine even after all these days and readily acknowledging that the pandemic threat is for real, it would have been doubtful if they would have even sat through Prime Minister Narendra Modi's TV speeches — two in five days — leave aside listening to news bulletins and reading newspaper reports.
Yet, if there is a ray of hope on the horizon, it is in the personality of Prime Minister Modi.
Today, covid-19, or the fact that it has no cure and self-protection (as different from self-medication) is the only cure, is a case cut out for Modi to prove himself. It is rather a challenge more than an opportunity.
But of immediate interest should be the prime minister's appeal and the large swathe of educated middle class, whose faith in his leadership has not diminished a bit — at least as yet.
Hence, the response to his call for a 'Janata curfew' first and a 21-day-long nationwide shut-down has been phenomenal. Possibly for the first time since Prime Minister Indira Gandhi called upon the nation to donate/sacrifice for the 'Bangladesh war' efforts, and also suffer blackout at nights with patience and pride, has the nation reacted so very positively to the government's diktat.
It would not happened had any other leader of the ruling BJP-NDA, including any or all of the senior ministerial colleagues, given a similar appeal to the nation. Credit be given to the political Opposition and other critics of the Modi leadership, they have abided by his diktat. Fear for the self, some Modi bhakt may put out on the social media, but it was their fear for the nation that has made them stand united and by the prime minister's announcement.
But is it all to the prime minister's efforts to curb coronavirus spread? Are the much-anticipated, and at times feared, 8 pm TV national address the only cure and solution? Holding a video-conference with all chief ministers may be Modi's way of telling them that the Centre knows the best in this hi-tech era. It's similar to Prime Minister Jawaharlal Nehru's monthly missives to chief ministers, educating them on foreign and security policy, and enlightening them on economic and social realities.
It is true that the Centre has access to more information. It is even more true that they have the experts and experience in extrapolating the virus spread on a given day and arrive at possible scenario(s) for the future. It is not only about the threat and spread, but also about control and cure.
The Centre's role is as important, if not more, when it comes to ensure that people stay indoors, but also get their daily provisions, vegetables, medicines and everything that the government has declared as 'essential'. Maybe, at some point, the Centre may have to call in the assistance of paramilitary forces, not to ensure law and order in the states but to assist the civil administration in covid control. Or, that's an option if the need arose.
Learning possibly from his experience as a student leader at the height of Indira Gandhi's Emergency, Modi has ensured that the media is kept within the list of 'essentials'. In this era of social media rumour-mongering, there is no better or even a second way to ensure that the people are kept informed and of the true nature of the virus threat and virus spread.
However, there are things that PM Modi may have overlooked or wantonly sidestepped, on the political front — and for no justification whatsoever. One of course is the timing of Omar Abdullah's freedom. True, his release could go some way to pacify the Kashmiri people, but doing so even a few days earlier, when his father Farooq Abdullah was freed similarly, may have helped more.
Even otherwise, the release of the duo will only be seen as a 'panic reaction'. It is anybody's guess how just now the home ministry thought that Omar was no more a 'national threat' when his detention under the Public Security Act (PSA) was sought to be justified only on that score. Their original detention, along with the BJP's one-time ally and chief ministerial choice, Mehbooba Mufti, has now become a sham, that too overnight.
Second of course is the prime minister's stoic silence to Uttar Pradesh Chief Minister Adityanath's declaration to go ahead with a Ram puja at Ayodhya. He has gone on to declare further that Lord Ram will protect them all who gather in the midst of the virus threat and spread. Now, it remains to be seen if the prime minister's 21-day lockdown will cover Adityanath and his festivities in the name of Lord Ram, or will they be brought under the list of 'essential services' — be it by the state government, if not the Centre.
If the prime minister is serious about his own assessment of the covid threat, he should have long ago put a stop to Adityanath's statements, behaviour and plans, when the entire nation is going through a situation worse than a war. Having failed to do so thus far, it is now time that Modi made clear to Adityanath — and to the whole nation — as to who is in charge, and who is in control.
Now at this stage, a meek, backdoor persuasion would not help restore Modi's credibility, strong leader image and his bhakts belief that he (alone) puts the nation before self and its self-centric political class. What more, a stern message at this stage, and to a strong and popular chief minister of the nation's largest state with the largest legislative majority for the ruling party, will send out a message all across. The nation needs that potion, here and now.
Leave aside the controversies surrounding US President Donald Trump's visit when early signs of a pandemic visitation was imminent in both the nations, Modi needs to grow and show that he is not only the leader of the BJP but also of the nation as a whole. Popularity apart, this alone distinguishes a politician from a statesman. Nehru, Indira Gandhi and Atal Bhari Vajpayee made it differently and made the difference, thus.
If the Modi leadership had thought big, it would not have cleared the BJP second-line's proposal to topple the rival Congress-led Kamal Nath government in Madhya Pradesh, or 'safe-keep' defector MLAs in distant Karnataka — all of it when coronavirus had already begun replacing politics on the front-page of newspapers.
It now seems that the BJP hierarchy seems to have concluded that covid threat was a god-sent opportunity for the party to deflect media/national attention from their horse-trading in Madhya Pradesh and Gujarat (where at least four Congress MLAs quit). All of it could have waited, and should have waited.
There is one other thing that Modi's advisers do not seem to have considered — either out of habit or after due deliberation. Either way, the conspicuous absence of an all-party confabulation seems to give the impression that someone up there seems to have concluded that it is still not a 'national calamity' to unite the nation — the Opposition and CAA detractors alike.
The nation cannot win a war against an unknown enemy, whose potential and destructive power alone it knows without carrying along the nation as one. Maybe an all-party consultative committee may be in order, maybe a video conference of the much-forgotten National Integration Council (NIC) could also be considered — provided, there is an active list of NIC members lying somewhere in the cobwebs of government files….