They were accused of killing and burning bodies of 17 Muslims in one of the many incidents of widespread violence in Gujarat in 2002, in the aftermath of the burning of a coach of the Sabarmati Express at Godhra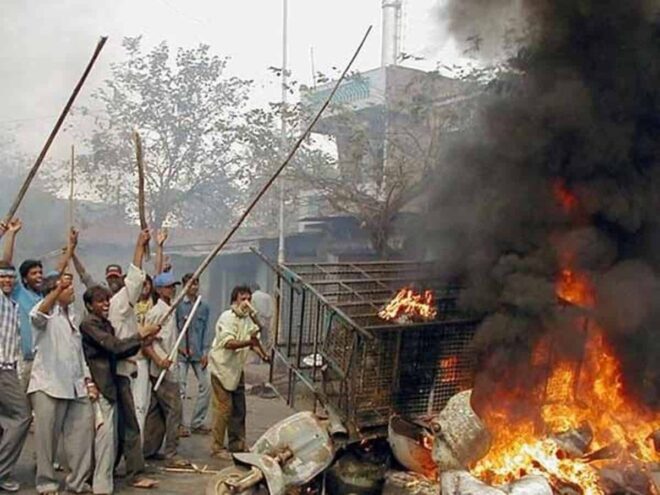 A court in Halol, of Gujarat's Panchmahal district has acquitted 14 accused for murder and rioting, during the Gujarat pogrom of 2002, owing to prosecution's failure to prove the case. The Additional Sessions Judge Harsh Balkrishna Trivedi held that in absence of 'corpus delicti' or concrete evidence such as a corpse, the accused were being acquitted. Out of the 22 accused, 8 had died during pendency of trial. They were accused of murdering 17 Muslims including 2 children. The accused had been out on bail anyway since 2004, after Gujarat high Court granted them bail. They were arrested in 2004 itself.
The FIR in the case was lodged in December 2003, pointing towards the questionable approach of Gujarat police. Over 100 witnesses were examined and many of them had turned hostile.
The court noted that it is a "general rule not to convict anybody unless Corpus delicti can be established." The forensic report of January 7, 2004 had stated that DNA profiling could not be done of completely charred bone pieces which were alleged to belong to the missing persons. The court held that in such a situation, the rule of corpus delicti is to be considered automatically.
The basis of the acquittal being, that the prosecution was unable to prove the place of the crime. Further, the bodily remains were also not recovered for the alleged place of crime. The court also noted the prosecution failed to establish beyond doubt the presence of the accused at the site of the offence or their specific role in the crime, failed to recover the alleged weapons used for the crime from the accused, and that there was no inflammable substance found at the suspected site of crime, reported Indian Express.
The case related to a relief camp in Kalol where many Muslim had sought refuge after fleeing from Delol village. They alleged that several of their family members were missing. Another person from the relief camp said that 18 Muslims from his village were also missing. During investigation charred bones were found and there were many witnesses who identified about 20 accused and testified that they saw the accused murdering their family members with swords and axes. The weapons were never recovered. The chargesheet was filed in 2004.
The accused include: Mukesh Bharvad, Killol Jani, Ashokbhai Patel, Niravkumar Patel, Yogeshkumar Patel, Dilipsinh Gohil, Dilipkumar Bhatt, Nasibdar Rathod, Alkeshkumar Vyas, Narendrakumar Kachhiya, Jinabhai Rathod, Akshaykumar Shah, Kiritbhai Joshi and Sureshbhai Patel.
This incident allegedly took place on March 1, 2002 whereby 17 were killed by a mob and their bodies were burnt in order to destroy evidence. In this case it clearly served the purpose.
Related:
Bilkis Bano's plea against remission to convicts could not be heard in SC
Provocative poster in Delhi's Brahmpuri calls on Hindu landlords to not sell to Muslim buyers
Review of 2022: A year of discrimination & violence experienced by India's religious minorities