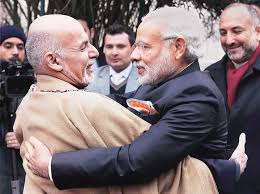 Sidiqullah Sahel 5 April 2019
The talk of Indo- afghan relations always remind us of Rabindra Nath Tagore's resplendent work 'Kabuli Wala' which he wrote in 1982. This is a story of an Afghan who leaves his country and finds India a very conducive place for his trade purpose. The story is a good depiction of the century old cordial trading relations between the two South Asian neighbors.
A friendship treaty signed between the two in 1950 strengthened this bonding and created more avenues which shaped the bedrock for what was to be seen a perpetual friendship. This got further impetus when India recognized the Democratic republic of Afghanistan in 1980.
However, this association strained and caught the lowest ebb when Taliban regime took the reins of power in the mid-nineties.
The Bonn Conference in 2001 changed the whole course of Afghan history with the coming of Hamid Karzai on the national scene. Karzai headed the newly established government after the Taliban was overthrown. Under Karzai the relations with India were revived which continued to flourish till date. India continued to play momentous role in the process of reconstruction and rehabilitation of Afghanistan during this period. The country later provided an aid of $2 billion to Afghanistan which was fifth highest donation after the USA, UK, Germany and Japan. The emphasis was put on building infrastructural projects and providing humanitarian assistance to the distressed lot. Apart from this community-based development and rebuilding the education sector was much focused.
The construction of Afghan Parliament which was inaugurated by Indian Prime Minister Narendra Modi in 2016 further reinforced the ties between the two which was later buttressed by the Construction of Salma Dam in Herat province and the formation of Chabahar Port. For capacity building Indian government is providing 1000 scholarships to Afghan students every year for undergraduate, and post graduate studies.
This bilateralism is based on mutual benefits. India is engaged in rebuilding Afghan society and its institutions with the consideration that a stable Afghanistan can be the key for easing out tensions in the region. This has further helped India to expand its outreach to central Asia.
Afghanistan being a door to central Asia can connect India to Europe. The construction of Chabahar Port will boost the trade relations of both the countries. This was witnessed recently when the first shipment with 570 tones goods from Afghanistan made its way towards India in the last month through Chabahar port. India is regularly sending its shipments to Iran and Afghanistan from Mumbai, Kandla, and Mundra ports. The opening up of air corridors has further fostered the mutual trust between the two.
The global political clamor has been witnessing significant churnings since the recent past. In the changing conditions US President Donald Trump has announced to end the eighteen-year war, the longest in history of America, and withdraw its forces from Afghanistan. While announcing this he called the regional powers, Russia and India, to play a role in peace and reconciliation process in Afghanistan. He further added that US has already spent exorbitant amount of money in the country and it's the time for regional powers to actively participate in the process of stability.
For achieving the mission US's special envoy to Afghanistan Zalmai Khalilzad has started meeting Taliban leadership in both United Arab Emirates and Qatar. The envoy also travelled to Pakistan for bringing Taliban into the peace table and facilitate this process by releasing Mula Abdul-Ghani Beradar, a leading Taliban figure, from prison.
The main agenda in all these meetings has been withdrawal of US forces from Afghanistan, not letting Afghan soil to be used for disturbing world peace and holding Taliban from being in association with any international terrorist organizations, and paving way for an intra-afghan dialogue.
India's role in the current peace process has been of central importance for its survival in Afghanistan because of several reasons. First India has been a stakeholder in Afghanistan since 2002, it has aided the country to transform it into a transit route for reaching the countries of central Asia through Chabahar port. Second, throughout the phase of turmoil India has spent exorbitant amount of money in Afghanistan and has built a positive image of a benevolent state in the eyes of Afghans especially Youth. The rising credibility of India has simultaneously led to hatred towards Pakistan for their destructive and pro-militant role in Afghanistan throughout the last four decades. So, Pakistan, in order to maintain its grip on Afghanistan would try to establish a pliant regime and demand an interim government in Afghanistan.
The best alternative for Pakistan at this critical juncture can be elevating Gulbuddin Hekmatyar who has signed peace treaty with Afghan government two years ago and is currently contesting for presidential elections of 2019. The second alternative can be aiding Taliban, who are all set to return back to Kabul, to get into the corridors of power. This will help Pakistan because the group is under complete influence of Pakistan. Their return will definitely hurt India and open the gates open for Pakistan.
Thirdly, both the parties either of Gulbuddin Hekmatyar Hizb e Islami Afghanistan and Taliban's Islamic Emirates of Afghanistan are hardcore Islamists. Since India would not be able to escape if any turmoil erupts in the region. The fact is well evident from Taliban's association with organizations like Jaish e Mohammad who have a record of striking India time and again.
Under such considerations India would not like a government which reiterates the past and which is pro-Pakistan. India would eye on stabilizing the region to maintain its position so that it would take benefits from what it was striving since a decade.
As India's minister of external affairs Swashma Swaraj at India-Central Asia dialogue which was held in Samarkhand "Uzbekistan" rightly stated "India supports the people and government of Afghanistan in their efforts to build a united, sovereign, democratic, peaceful, stable, prosperous, and inclusive nation. India supports all efforts for peace and reconciliation in Afghanistan which are inclusive and Afghan-led, Afghan-owned, and Afghan-controlled."
The geographical location of Afghanistan makes it an attractive destination for all the powers. Whatever regime comes to hold the power should consider this and make endeavors for not only political Stability but changing Afghanistan into an economic hub from its current position of not more than a buffer zone. The Afghan future is bright if affairs are handled with much dexterity by able leadership which can benefit from the regional power rivalry.