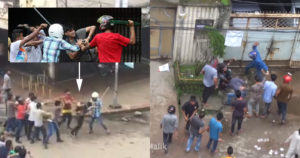 Special Correspondent  The weekly Holiday
16 September 2018
NEW High Commissioner for United Nations Human Rights body, Michelle Bachelet on Monday observed that student protesters and media professionals in Bangladesh were recently attacked, arrested and reportedly ill-treated.
'The perpetrators of this violence must be held accountable to prevent recurrence,' she said in her first address to the Human Rights Council as it opened a three-week session in Geneva.
Students of schools and colleges recently staged protests for justice and road safety following death of two school students in Dhaka on July 29, when a bus ploughed through a crowd of students waiting for transports.
Police and ruling Awami League people attacked the protesters mostly school students and journalists covering the protests on several occasions till August 6.
The police arrested about 100 students, an actress, two women entrepreneurs and internationally acclaimed photographer Shahidul Alam in connection with the protests and most of them were interrogated in police custody. All of them but Shahidul Alam were later released on bail.
Law enforcers, however, arrested no attacker on the protesters.
Michelle Bachelet said that the government should do more to ensure freedom of expression, indispensable for free and fair elections.
'Troubling reports also indicate that an anti-narcotics drive has led to over 220 killings, and thousands of arrests, with allegations of extrajudicial executions,' said Michelle Bachelet, also former Chilean president, once a political detainee herself, who became UN Human Rights chief this month.
Drug issues everywhere are best tackled through a focus on health, education and opportunities — not the death penalty, or death squads.
At least 226 people have so far been killed in reported gunfights, mostly with law enforcers, or by their 'rivals' since the beginning of the drive in may, according to police accounts.
Bangladesh admired for sheltering Rohingya
Bachelet, however, admired Bangladesh for hosting so many Rohingyas and for its success in poverty reduction.
News agency Reuters reported from Geneva that Michelle Bachelet called for a new quasi-judicial body to collect evidence with a view to future prosecution of crimes against Rohingyas in Myanmar, including murder and torture.
An independent UN team of investigators said in a report in August that there was evidence indicating 'genocidal intent' by the military against Rohingyas and crimes against humanity and war crimes appeared to have been committed.
About 7,00,000 Rohingyas have entered Bangladesh fleeing atrocities committed against the minority community in Rakhine State, denounced as ethnic cleansing and genocide by UN bodies, since August 25, 2017, when Myanmar military launched the crackdown.
Bachelet, said that attacks and persecution appear to continue in Rakhine state. Investigators had also found indications of executions, torture and sexual violence against minorities in Kachin and Shan states, she said.
She welcomed a decision by the prosecutor of the International Criminal Court past week that it had jurisdiction over alleged displacement of Rohingyas from Myanmar to Bangladesh as a possible crime against humanity.
'I also welcome efforts by member states at this council to establish an independent international mechanism for Myanmar, to collect, consolidate, preserve and analyse evidence of the most serious international crimes, in order to expedite fair and independent trials in national and international courts,' she said.
The new mechanism, similar to what has been set up for crimes in Syria, would complement and support the preliminary examination of the ICC prosecutor, she added.
'I urge the council to pass a resolution and refer the matter to the [UN] General Assembly for its endorsement so that such a mechanism can be established,' she said.