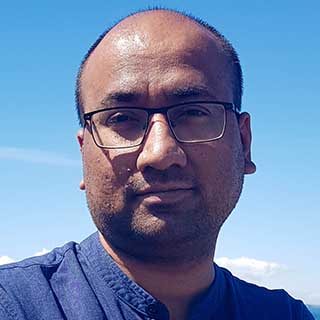 Unable to intimidate Tasneem Khalil in person, Bangladesh's intelligence agency tried a different approach – going after his mom. The editor-in-chief of the public interest journalism platform Netra News had fled Bangladesh in 2007 after being detained by military intelligence. In exile, the government kept him in its sights.
MALMO, SWEDENI was working for the Daily Star, one of the largest newspapers in the country, when I left Bangladesh. I was also a stringer for CNN and a researcher for Human Rights Watch. I covered human rights issues, abuses by police, military and paramilitary forces.
After my release from detention in 2007, I decided to leave the country and came to Sweden.
Journalists who've reported on repressive regimes sometimes have no choice but to flee for their safety. But exile is no shield for loved ones back home. The threat of family reprisals puts journalists in a fraught corner. Here, they tell their stories:
Jessica Jerreat,
Press Freedom Editor
Netra News is located in Sweden, but our primary focus is Bangladesh. We cover stories based on our collaboration with journalists on the ground. The kinds of stories we cover expose lots of corruption, lots of abuse by the authorities. And so they're not happy with me as the editor-in-chief of Netra News. Authorities have gone after my family in Bangladesh. They have tried to intimidate me by intimidating my immediate family.
I have been sued by the government. Under the draconian Digital Security Act, they have sued me, and the allegations are not clear. Apparently, one of the charges is that I instigated a cartoonist to draw cartoons, which I find baffling. No one needs to instigate a cartoonist to draw cartoons. Some of my co-accused are in jail and being denied bail.
If I was in Bangladesh, I would have been arrested by now.
In April, three men from the military intelligence agency visited my mother. They tried to convince her that she should ask me to stop criticizing the government, to stop writing things that, in their version, go against the state of Bangladesh.
My mother was frustrated, but I don't think she was very scared because she stood up to them. She said, "Look, what you are doing is not alright. I am a senior citizen, and you can't just come and harass me because of what my adult son is doing."
My own reaction was definitely anger and frustration. I have not done anything wrong, and they have to stoop very low in order to do this.
The situation in Bangladesh is deteriorating by the day. It has been marching toward becoming more and more authoritarian over the years. Now everything seems to be falling apart. Only the police state that has sort of replaced all the institutions is standing.
The situation of press freedom has never been good, I have to say, but now it's the worst. We have cases where journalists, dissidents and political activists are being sued under the Digital Security Act simply for criticizing anything to do with the government. There is no journalism, really.
One of the reasons Netra News has headquarters in Sweden is that we cannot operate openly in Bangladesh. We cannot risk our journalists by exposing them directly to physical and judicial harassment.
Bangladesh's Foreign Ministry did not respond to VOA's request for comment.