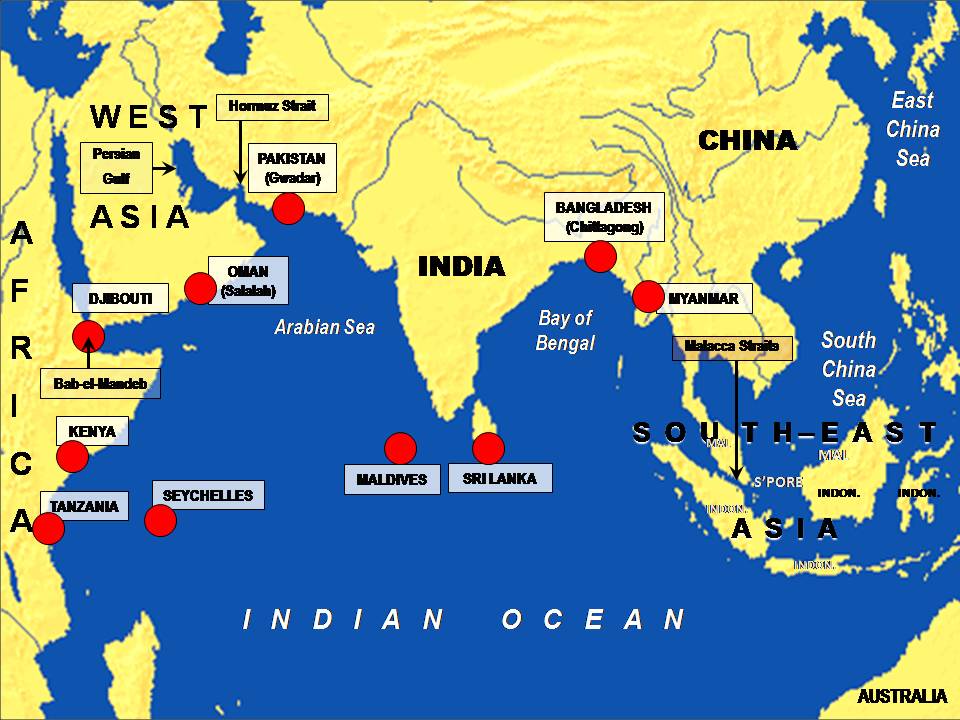 by Niranjan Jose    29 June 2020 
The term 'String of Pearls' was initially published in 2005, in a document titled 'Energy Futures in Asia' presented to the United States Secretary of Defense Donald H Rumsfeld by Booz Allen Hamilton. A phrase that has been undeniably exotic to characterize China's efforts to develop its presence in the Indian Ocean Region (IOR). The strategy of the 'String of Pearls' revolves around the construction of infrastructure networks in littoral countries from the South China Sea to the Middle East. According to a study by the Congressional Research Office in 2011, China might develop, or eventually might choose to construct, a network of Chinese military and commercial assets in the Indian Ocean to support Chinese naval operations along the Sea Lane of Communications (SLOCs) which extend from the Chinese mainland to Port Sudan. Ultimately, those 'bases' would be used to house Chinese military assets. However, the Chinese Communist Party insists that China's burgeoning naval strategy is completely peaceful and is only intended to protect regional commercial interests. The emergence of the String of Pearls is reflective of China's growing regional hegemony through concerted efforts to improve access to ports, modernize military forces, and foster stronger bilateral relations with trading partners.
Indian Ocean: Is it India's Ocean
Although the Indian Ocean is the world's only ocean named after a country, it has long been peripheral to India's foreign policy priorities. India has the potential to control geographically as the largest nation in the region and the one that controls the sea and air communication lines. Furthermore; the Andaman Nicobar islands compliment peninsular India in their capability to effectively extend influence over the sea lanes of communication. While India has gradually stepped up its involvement with the region over the past two decades, its further advancement faces numerous challenges. It lacks the required capital to engage head-to-head in trading and industrial investment with China. Inefficiencies, poor governance, and competing requirements plague naval and air modernization. It still has significant economic issues at home, and competing social priorities.
This had generated a vacuum in the region, which China has filled up adequately. As part of a long-term policy, China has slowly developed its presence in the area through infrastructure projects and economic assistance, which in effect has taken several coastal states into Beijing's fold in India's neighborhood. Now, as part of the 'Belt and Road' initiative, better known as the 'One Belt, One Road' (OBOR) strategy, an even greater push is coming via the Maritime Silk Route (MSR). Simultaneously, the region has witnessed increased activities among multiple foreign navies for several reasons, including anti-piracy operations, securing communications lines at sea, and maintaining freedom of navigation in this main artery of global commerce. The IOR is now operated by navies of more than 40 countries.
India, the conventional South Asian naval power, has been unable to counter China with countries in the area on both economic and strategic fronts. Further, India's latest geopolitical alliance with the US is proving to be unilateral, with regionally destabilizing and internationally volatile actions. These elements force New Delhi to configure its resistance to China with great caution. The Chinese Navy is increasingly modernizing and in recent years patrols have begun in the Indian Ocean area, presenting a new question to the maritime ambitions of India. While submarines and warships of the Chinese Navy patrol in the international waters, the Indian security establishment keeps a close eye on China's increasing naval strength.
China's Debt trap diplomacy
Smaller South Asian nations have quite a significant shortfall in development and investment and Chinese capital floods in to fill the gap. Although investing in maritime facilities lets China develop strategic partnerships with participating nations, it also ensures China's presence along SLOCs which links Beijing to the Arabian Peninsula but also Latin America and Europe. China wants to be a major player in the Indian Ocean with the Indian Ocean becoming the most strategic waters of the 21st century, replacing the Pacific and Atlantic supremacy of the previous century. The sea lanes of communications are at stake for them, through which most of their energy needs transit to fuel a double-digit growth.
China's advancement of the One Belt, One Road plan to improve infrastructure and business links with partner countries did not diminish suspicions of China's ambitions. In addition to trade, The Chinese navy has been planning to create a bigger security footprint around the littorals of the Indian Ocean. China has also been active in the Indian Ocean area as a provider of extremely sophisticated naval equipment and technologies, including several countries near to India. Over the years, China has managed to string together a patronage network of multiple coastline locations in south Asia by large scale infrastructure projects, and bilateral military equipment transfer. China has been on an ambitious global expansion, engulfing strategically valuable maritime assets in neighboring countries. The formulation of this "string of pearls" strategy, under the guise of economic development, to support China's larger commercial and military ambitions, has managed to lure nations out of India's strategic orbit.
Maldives: Caught between the Elephant and the Dragon
An indication of this metamorphosis is the latest political transition undergone on the Maldives by the Abdulla Yameen administration. An agreement signed by Indian firm GMR was abruptly canceled by the Maldives in late 2012 and subsequently given to a Chinese company in 2014. Chinese President Xi Jinping visited the Maldives around this period, the first occasion a Chinese president has ever done so, courting the nation with messages of economic growth. This coincided with a decline in relations between India and Maldives, and Male's unwillingness to prolong visas to Indian security officers stationed on the southern islands, presumably to deter surveillance of Chinese assets in the area.
In a surprise election result in October 2018 the newly elected Ibrahim Mohamed Solih defeated pro-China authoritarian leader Abdulla Yameen. The victory was a welcome relief for New Delhi politicians who described it as a 'triumph of democratic powers.' The Maldives strengthened ties with China during Yameen's five-year rule, strengthening a free trade agreement as well as welcoming considerable investment while sidelining Indian objections about the partnership. Due to a surge in infrastructure development, the Maldives managed to accumulate between $1.5 billion and $3 billion in debt to Chinese lending institutions, more than a quarter of its GDP – mostly for large-scale infrastructure projects, as shown in a Reuter's article. Since Solih came to power, perceptions of China have soured in the Maldives. Former President Yameen's cheap loan spree has ended, and the hangover is beginning to set in. Solih has already vowed to withdraw from China's free trade agreement, saying the deal was 'very one-sided'. China had leased at least 16 islets of the dispersed islands that make up the country and built there, ports, and other infrastructural facilities.
Recent developments
Under Solih, the country restored its membership in the Commonwealth of Nations and joined the Indian Ocean Rim Association. Maldives' also resumed participation in the trilateral military exercise Dosti with India and Sri Lanka. Solih is speaking of an 'India first' policy while India is promoting a 'neighborhood first' policy. While these appear mutually agreeable, the challenge lies in implementing them, understanding each other's security and strategic concerns, and providing room for dialogue to address those concerns. But to achieve greater results, both countries need to enhance regional cooperation by using common platforms such as the Indian Ocean RIM Association and the Indian Ocean Naval Symposium. Maldivians are predominantly of Indian and Sri Lankan origin and have close economic and cultural relations with the nations. A Maldives impacted by political instability could be a favorable environment for religious fundamentalism, extremism, drug trafficking and smuggling. The island nation has seen a gradual rise in radical Islam pushed on by Wahhabi-sponsored preachers, and has the highest militant departures per capita to join the Islamic State. India recognizes this as a national security threat since it was the target of various terrorist attacks plotted by the same radical groups within Pakistan and Bangladesh that are now operating in the archipelago.
India has been reaching out to Male to deal with the COVID crisis. The Maldives is the first destination of India's Mission Sagar under which New Delhi supplied medicines and essential food commodities to 4 Indian Ocean countries–Maldives, Mauritius, Madagascar, Comoros, and Seychelles. Under Operation Sanjeevani in April, Indian Air Force airlifted 6.2 tonnes of medicines to the country held in various cities in India and before that evacuated nine Maldivians out of Wuhan City, China. Further, New Delhi has activated a currency swap arrangement to help the Indian Ocean Island country to mitigate the impact of COVID crisis. The move is expected to help Maldives financial system by stabilizing the exchange rate and ease liquidity. India has given a foreign currency swap facility of USD 150 million to the Maldives Central Bank–Maldives Monetary Authority– under the USD 400 million currency swap agreement signed in July 2019 between the two countries. The financial assistance offered by India would go a long way towards alleviating the financial difficulties of Malé. It also reflects the aim of New Delhi to establish stronger relations with the Maldives, as it occupies a very important geostrategic position, given the volume of trade that transits through the sea lanes it sits astride.
Conclusion
The Maldives is situated only 700 kilometers from the strategic Lakshadweep island chain and 1,200 kilometers from the Indian mainland and the growing influence of China in the Maldives may have significant security implications. There is a widespread sense that the world has underestimated China's pace of military modernization, the extent of its maritime expansion, and its implications in the IOR. China's transformation into a global maritime power has made it comfortable with the idea of counterbalancing American interests in the West Pacific and Indian interests in the Indian Ocean. China is rapidly pushing into the Indian Ocean and in the future, its BRI could adopt a military posture in the region. These trends are of extreme significance to India as China's activities are likely to reduce operational space for India and decrease its conventional leverage with smaller regional states. China has increased military pressure along its border with India in the Himalayas. If it can turn one of the Maldivian islands into a naval base, it would effectively open a maritime front against India — a milestone in China's strategic encirclement of its neighbor.
Rather than questioning China's motives, India needs to concentrate on how to cope with the inevitable consequence of the influx of Chinese influence into the Indian Ocean. Various reasons can be quoted for China's maritime activities all over the Indian and Pacific Oceans, ranging from resources and commercial interests to diplomatic and ultimately military and security interests. China, which is heavily reliant on the Middle East and Africa's resources, is highly susceptible to supply disruptions by political destabilization in supplier countries or problems such as piracy or blockades in chokepoints such as the South China Sea, Persian Gulf or the Malacca Strait. Through a presence in these strategic regions, China is securing its energy routes while expanding trade and diplomatic relations with many countries at the same time.
The Indian Ocean is fundamental to the aim of China to fashion a Sino-centric Asia. China's subtle policy, gnawing away at India's inherent geopolitical advantage, draws strength from its more forceful quest for supremacy in the East and South China Seas. In that context, China's vigorous maritime policy has emerged as the Indo-Pacific region's toughest threat. Much the same as the US domination in the Western hemisphere, China seeks to gain the dominant position in Asia by deepening the divide in influence with its most powerful neighbors — Japan, Russia, and India. It believes that the maritime domain holds the key to achieving its goal, thus initiating the Maritime Silk Road.