Amnesty International report details executions by law enforcers and disappearances during war on drugs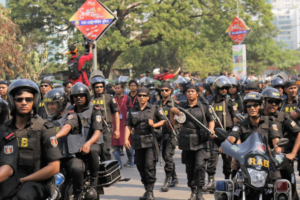 ucanews reporters, Dhaka Bangladesh November 6, 2019
A global rights group has slammed Bangladesh for hundreds of extrajudicial executions in the guise of so-called anti-drugs clampdowns last year.
In 2018, law enforcers in Bangladesh were involved in 466 extrajudicial killings, a series of enforced disappearances and the use of fabricated statements to justify arbitrary executions, according to the latest report from London-based Amnesty International.
The report, titled "Bangladesh: Killed in Crossfire: Allegations of Extrajudicial Executions in Bangladesh in the Guise of a War on Drugs," was published on Nov. 4.
It alleged that Bangladeshi authorities have failed to investigate the deaths of people allegedly killed by law enforcers. The 466 suspected extrajudicial executions in 2018 alone marked a threefold increase on 2017 and the highest in a single year in decades.
"The war on drugs has led to the death of at least one person per day. Wherever there has been involvement of the Rapid Action Battalion (RAB), it appears they have acted outside of the law. The victims were not arrested, let alone put on trial. Some were forcibly disappeared from their homes and their relatives only saw them next as bullet-riddled corpses in the morgue," said Dinushika Dissanayake, deputy South Asia director at Amnesty International.
In most cases, authorities did not conduct proper investigations and allegedly sought to fabricate evidence to support "gunfights" or "crossfire" — two common euphemisms for extrajudicial executions in Bangladesh.
Interviews with supposed "witnesses" revealed that they had not seen the killings but were asked by police to provide fabricated statements supporting the police version of the deaths, Amnesty said.
Father Anthony Sen, a member of the Catholic bishops' Justice and Peace Commission, termed extrajudicial killings "unacceptable and inhumane" in a civilized country.
"Violence cannot put an end to crimes, and even a criminal deserves the right to face laws, not a wholesale systematic killing," Father Sen told ucanews.
"What law enforcers have done is horrific state-sponsored crime and utter disrespect for rule of law and human rights. In most cases, people at the lower rung of crime syndicates are killed to save bigwigs. Rights groups and international communities must put pressure so that justice is delivered and such crimes stop."
The human rights situation worsened in Bangladesh last year, said Shipa Hafiza, executive director of Dhaka-based rights group Ain-O-Salish Kendra (Law and Arbitration Center).
"A series of extrajudicial killings and enforced disappearances show how disrespectful to human rights we are as a nation. For years, we have been pressing but failed to get an independent commission to probe summary executions and an end to impunity that we have been witnessing for too long," Hafiza told ucanews.
Nasima Begum, chairwoman of the state-run National Human Rights Commission (NHRC), said the commission cannot do much to end extralegal executions.
"We have expressed and passed our concerns over extrajudicial killings to the government on several occasions. But the commission does not have any magistracy power to prosecute law enforcers allegedly involved in such cases," Begum told ucanews.
"We make recommendations and the government is supposed to implement them. All we can say is that if a citizen, whether criminal and innocent