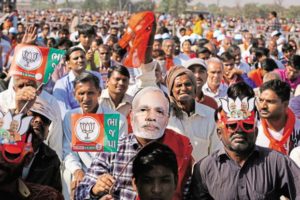 By Gaurav Tyagi    1/2/2018
India celebrated its 69th Republic day on 26th January. The political party BJP currently holds power at the center as well as in the majority of Indian provinces.
Rajasthan and Madhya Pradesh provinces governed by BJP moved the Supreme Court of India for a recall of its January 18th order allowing the nationwide release of Sanjay Leela Bhansali's controversial film, 'Padmavati' later renamed as 'Padmaavat' on January 25.
The Supreme Court rejected pleas filed by Rajasthan and Madhya Pradesh governments by stating that; "People must understand that the Supreme Court has passed an order. They must abide by it. The states must maintain law and order".
This film was slated to release in December 2017 but was put on hold following fierce protests by groups belonging to Hindu religion's, Rajput caste in India.
In spite of filmmaker Sanjay Leela Bhansali's repeated clarifications, Rajput community groups angrily protested about the possibility of intimate scenes in a dream sequence between Queen Padmavati, a Rajput character, and Emperor Alauddin Khilji, a Muslim in the film.
The authorities of Haryana, another province with BJP government, have said they won't allow the screening of the film in Haryana.
Protestors indulged in rampant vandalism across India by setting fire to buses, motorbikes, and cars. Even a school bus was stoned just 15 km away from the national capital of Delhi resulting in severe psychological trauma for the kids. Roads and railway tracks were blocked besides numerous attacks on cinema halls and shopping malls in different parts of the country.
Terming the protests as natural, senior state Minister of Gujarat province Bhupendrasinh Chudasama also from BJP said, "if you distort historical facts and present it in a movie, it is quite natural that people will protest."
The chief of Rajput Karni Sena, a casteist organization, which is the main catalyst behind the needless drama created against this movie, Lokendra Singh Kalvi, who is also a BJP member threatened a nationwide mutiny if the film gets released.
What happened to 'creative freedom' in the world's largest so-called democracy since, when people require history lessons from a film?
The sprawling lawns outside the Red Fort in the Indian Capital city, New Delhi will host a week-long 'Vedic Yagna'(Hindu religious ritual) from 18-25 March to blunt conspiracies hatched by the country's 'inimical forces.'
It is being organized by Maheish Girri, a member of Parliament (M.P.) belonging to BJP.
A large number of Delhi based businessmen have come forward to fund the Hindu ritual. Red Fort is the same place from where the Indian Prime Minister unfurls the Indian flag every year on August 15, India's Independence Day.
Indian Prime Minister Modi will also attend this event, which would involve around 1100 Hindu Priests.
'Ghee' (Clarified Butter) will be offered to the Hindu Gods by putting it into the holy fire.
Girri said, "We appeal to each and everyone to offer at least one spoonful of 'Ghee.' There are external and internal forces, who are attempting to harm the country's interests. We are organizing the Yagya (ceremonial fire) following our ancient traditions to thwart such attempts and to take a pledge to create a New India."
According to Nobel Prize winner for Economics Angus Deaton, malnutrition in India is a very severe problem not just related to calorie intake but the country's dependence on a carbohydrate based diet with low protein and fat content.
World Bank data indicates that India has one of the world's highest demographics of children suffering from malnutrition. The figure is double that of Sub-Saharan Africa.
India's Global Hunger Index ranking of 67 out of 80 surveyed nations, places the country below North-Korea and Sudan. 44% of children under the age of 5 in India are underweight while 72% of infants have anaemia.
Maheish Girri would do a better service to the nation by channelizing the 'Ghee' and other eatables to the category above of children instead of wasting the food items by putting into the fire as offerings to imaginary Gods.
Around One Billion people worldwide still practice 'open defecation.' India alone has an estimated 600 Million people defecating openly, according to a study by the United Nations, accounting for more open defecation than any other country in the world.
The annual status of education report (ASER) on the condition of education in Rural India was released on January 16, 2018. ASER has been conducted every year since 2005 in almost all rural districts of India. It is also the only source of information on Children's learning outcomes currently available in India.
The findings of the survey reveal that in the age-group of 14-18 years about 25% cannot fluently read the primary text in their regional language.
India has 22 officially recognized languages including English.
More than half of these teenagers struggle with division (3 digits by one digit) problems. 59% had never used a computer, and 64% had never used the internet.
The report mentions that a substantial number of youngsters, who have completed eight years of schooling have difficulty applying their literacy and numeracy skills to real-world situations.
Indian Prime Minister Modi while delivering the keynote address on the opening day of the World Economic Forum at Davos, Switzerland pitched for India as an investment destination and stated that the country presents an exciting opportunity for global businesses.
According to anti-poverty charity Oxfam, up to 670 Million Indians comprising the poorest half of the population saw just 1 percent increase in their wealth while the richest 1 percent cornered 73 percent of national income generated in the country last year. This makes India, one of the unequal nations in the world.
India's wealth inequality also results in lack of access to quality medical care for the poor. Those living on $2 a day have a mortality rate three times the global average. India's health budget at 1.15 percent of the country's GDP is among the lowest in the world as per the Oxfam report.
Modi is inviting global corporations and investors to invest in India by showing them an India with 'rose-tinted glasses.'
The Chief Minister of Delhi, Arvind Kejriwal said the current situation is not good for the dwindling economy of the country.
"If all state govts, central govt and Supreme Court together cannot get one movie released and run safely, how can we expect investments to flow in? Such a situation where investments are discouraged is bad for job creation, forget foreign Direct Investment even local investors would feel hesitant" Kejriwal tweeted.
The ruling party of India BJP is encouraging criminal and casteist groups like Karni Sena in the name of Hindu religious pride. Caste card is being played by the establishment to divert the attention of people from pressing issues facing the country i.e., the absence of quality education, healthcare, poor nutrition as well as sanitation and rising youth unemployment.
Genuine national development has been sidetracked and Modi's party, BJP has turned India into a medieval Hindu fundamentalist nation.