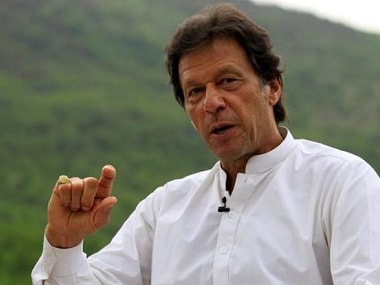 By Nauman Sadiq     19 February 2019
During Imran Khan's four-month sit-in and political demonstrations in front of the parliament in Islamabad from August to December 2014, the allegations of election rigging and the demand for electoral reforms were simply a smokescreen.
A question would naturally arise in the minds of curious observers of Pakistan's politics that what prompted Imran Khan to make a sudden volte-face when the stellar success of Imran Khan's Pakistan Tehreek-e-Insaf (PTI) in the general elections of 2013 was anything but a pleasant surprise for the PTI leadership.
Imran Khan and his political party were accustomed to winning only a single seat in the parliament right up to the general elections of 2008 which the PTI boycotted. In the parliamentary elections of 2013, however, Imran Khan's PTI mustered 35 National Assembly seats and completely wiped out the northwestern Khyber-Pakhtunkhwa (KP) province's Pashtun nationalist party, Awami National Party (ANP), and formed a coalition government in the province with the tacit approval of Nawaz Sharif's Pakistan Muslim League-Nawaz (PML-N), because PML-N could have easily formed a coalition government in the province with Maulana Fazl-ur-Rahman's Jamiat Ulema-e-Islam's support.
These facts prove beyond doubt that the demonstrations and protests by Pakistan Tehreek-e-Insaf (PTI) from August to December 2014 were based on political opportunism rather than any genuine grievances against the government of Nawaz Sharif.
Imran Khan came forward with a very broad and disjointed agenda: from electoral reforms to the resignation of the prime minister to seeking justice for the victims of the Model Town tragedy on 17 June 2014 in which 14 workers of Tahir-ul-Qadri's Minhaj-ul-Quran were killed by the Punjab police in Lahore.
When the government agreed to the demand for electoral reforms, Imran Khan began insisting on the unacceptable demand of prime minister's resignation; and when people and media criticized him for being unreasonable and causing disruption to the normal functioning of the state, he immediately occupied the high moral ground by drawing attention to the Model Town tragedy.
Evidently, Imran Khan's "wish list" was only a smokescreen to hide his real motive, which was to permanently banish Nawaz Sharif and his family from Pakistan's politics by sending them into another decade-long exile to Saudi Arabia with the help of Imran Khan's patrons in Pakistan's security establishment.
Truth be told, Imran Khan's PTI played the same spoiler role in Pakistan's politics which the elusive Tamarod Movement had played in Egypt in June 2013, before the military-led coup against Mohammad Morsi's government by General Abdel Fattah el-Sisi.
Apart from a small number of loyalists of Egypt's military, Tamarod was mainly comprised of a few thousand football enthusiasts, known as "the ultras," who claimed that they had purportedly collected "millions" of signatures endorsing the ouster of Mohammad Morsi of Muslim Brotherhood, who had only had an year-long stint in power in Egypt's more than sixty-year political history.
Similarly, Imran Khan's PTI's demonstrations in 2014 were not spontaneous uprisings. Those political protests were cleverly planned and choreographed by Pakistan's military that has a history of staging military coups in Pakistan.
Those protests should be viewed in the backdrop of the Euromaidan demonstrations in Ukraine in November 2013, the Rabaa square massacre in Egypt in August 2013, and the mass protests and the ensuing military coup against the government of Yingluck Shinawatra in Thailand in May 2014, months before the announcement of street demonstrations against the government of Nawaz Sharif by Imran Khan.
Apparently, the "scriptwriter" of 2014 protests first realized the potential of PTI's zealots to stage a sit-in when they blocked NATO's supply route in Pakistan's northwestern city Peshawar. It must have then occurred to Pakistan's security establishment that Imran Khan's PTI's highly motivated youth supporters were very much capable of staging months-long demonstrations against the government of Nawaz Sharif.
Notwithstanding, there were actually two groups of perpetrators that carried out an assault on democracy and constitution during the mass demonstrations against the government of Nawaz Sharif in 2014. Imran Khan's PTI is a nation-wide political party which has a mass following; however, Tahir-ul-Qadri and his Minhaj-ul-Quran religious organization is a subversive outfit which is as dangerous as the Taliban.
The Taliban carry out subversive activities against the state; and in the same manner, Tahir-ul-Qadri's Minhaj launched a concerted assault on the paramount institutions of the state: the Parliament and the Prime Minister House.
Evidently, the August to December 2014 protests were carefully planned and choreographed. The role played by Imran Khan and PTI was only secondary; the primary role was played by the establishment's stooges: Tahir-ul-Qadri, Sheikh Rasheed, Chaudhry Shujaat and Pervaiz Elahi.
Imran Khan's PTI is a broad-based political party which represents the urban middle class; by their very nature, such protesters are peaceful and nonviolent. Left to his own resources, the best Imran Khan could have done was to stage a sit-in at Aabpara Market for a few days.
Both violent charges of the demonstrators in August 2014, the assault on the Red Zone in Islamabad as well as the charge on the Prime Minister House, were led by the Minhaj-ul-Quran workers. Those hooligans were a bunch of highly organized and trained religious zealots who were equipped with sticks, slingshots, gas-masks, cranes and anything short of firearms, which apparently their organizers forbade them from using in order to keep the demonstrations legit in the eyes of public.
The role played by Imran Khan and PTI in the assault on the Constitution Avenue was simply meant to legitimize the assault: the peaceful protesters, women and kids, music concerts and populist demagoguery, everything added up to creating excellent optics; but the real driving force in the assault on democracy was Tahir-ul-Qadri and his Minhaj-ul-Quran, which is a religious cult comparable to the Rajavis of Iran and their Mujahideen-e-Khalq, or the Gulenists in Turkey.
Although Imran Khan did eventually manage to win the elections last year and formed the government in the center, those elections were anything but fair. Many of the stalwarts of Nawaz Sharif's political party were sent behind the bars before the July 2018 general elections, and Nawaz Sharif himself was barred from taking part in the elections by a verdict of Pakistan's apex court in July 2017, and was subsequently also given a ten-year imprisonment sentence, though the latter decision is subject to appeal.
In Pakistan's context, the national security establishment originally meant civil-military bureaucracy. Though over the years, civil bureaucracy has taken a backseat and now "the establishment" is defined as military's top brass that has dictated Pakistan's security and defense policy since its inception.
Paradoxically, security establishments do not have ideologies, they simply have interests. For instance, the General Ayub-led administration in the 1960s was regarded as a liberal establishment. Then, the General Zia-led administration during the 1980s was manifestly a conservative Islamist establishment. And lastly, the General Musharraf-led administration from 1999 to 2008 was once again deemed a liberal establishment.
Similarly, the Egyptian and Turkish military establishments also have a liberal outlook, but they are equally capable of forming alliances with conservatives if and when it suits the institutional interests of military. In fact, since military's top brass is mostly groomed in urban milieus, therefore its high-ranking officers are more likely to have liberal temperaments.
The establishment does not judge on the basis of ideology, it simply looks for weakness. If a liberal political party is unassailable in a political system, it would join forces with conservatives; and if conservatives cannot be beaten in a system, it would form an alliance with liberals to perpetuate the stranglehold of the "deep state" on its traditional domain, the security and defense policy of a country.
The biggest threat to nascent democracies all over the world does not come from external enemies, but from their internal enemies, the national security establishments, because military generals by their very training have a chauvinistic mindset and a hawkish temperament. An additional aggravating factor that increases the likelihood of military coups in developing democracies is that they lack firm traditions of democracy, rule of law and constitutionalism which act as bars against martial laws.
All political parties in Pakistan at some point in time in history were groomed by the security establishment. The founder of Pakistan People's Party (PPP), Zulfikar Ali Bhutto, was groomed by General Ayub's establishment in the 1960s as a counterweight to Sheikh Mujib's Awami League in the East Pakistan province of Pakistan, which is now a separate country Bangladesh.
Similarly, Nawaz Sharif was nurtured by General Zia's administration during the 1980s to offset the influence of Benazir Bhutto-led Pakistan People's Party, which was deemed a "security risk" by the military's top brass. And finally, Imran Khan was groomed by General Musharraf's establishment to counterbalance the ascendancy of Nawaz Sharif, who had fallen out with the establishment after the Pakistan Army's Kargil Operation in the Indian-administered Kashmir in 1999.