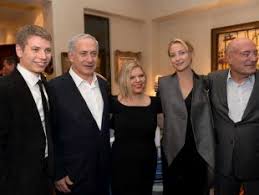 by Gaurav Tyagi    16/1/2018
Yair Netanyahu, the 26-year-old son of Israeli Prime Minister Benjamin Netanyahu, is currently in the spotlight.
Channel 2, Israels' top-rated news broadcaster aired a recording recently. The conversations in the recording are from three years back. Yair is heard making misogynistic comments about women, going on a late night search for a prostitute, etc. during a drinking session at a club with his entourage.
Yair Netanyahu was also heard saying to the son of Israeli business tycoon, Kobi Maimon; "My Dad arranged $20 Billion for your Dad, and you're whining with me about 400 Shekels". These 400 Shekels refer to the money Yair borrowed from Kobi's son in a strip club.
As per CNN, the previous conversation about $20 Billion was regarding a proposal to split future natural gas drilling money between private and state companies. Critics in Israel are blasting it as a sign of corruption.
Yair's father, the Prime Minister of Israel Benjamin Netanyahu, is facing two criminal probes regarding fraud, bribery, and breach of trust.
According to Ruth Eglash of The Washington Post, Benjamin Netanyahu's wife and Yair's mother Sara has also come under scrutiny for her lavish lifestyle.
Eglash wrote, "Last year, a former housekeeper at the official residence sued and won $43,735 in damages for abusive treatment by the Prime Minister's family. During his testimony, Meni Naftali revealed intimate details about Sara Netanyahu's lifestyle, including her taste for Pink Champagne and other luxuries."
As per a state report in 2015, the Netanyahu family billed taxpayers 92,781 Shekels, approximately $24,000 for takeaway food during 2011.
In the recording, Yair and his group accompanied by a state provided bodyguard even went to the extent of saying that if the guard ever left his job, he would have to be killed.
The repercussion of this recording on the political career of Benjamin Netanyahu would get clearer in due course of time since the next Israeli Legislative Elections for the 21st Knesset are still far-off. The polls are due by 5th November 2019.
Netanyahu's Likud Party currently is the largest party in Israeli coalition government with 30 seats.
In the book, "When Crime Pays; Money & Muscle in Indian Politics," Milan Vaishnav of the Carnegie Endowment for International Peace tracks the remarkable political success of India's accused murderers, blackmailers, thieves, and kidnappers.
Vaishnav states that 34% of the members of Parliament (M.P's) in the lower house of Indian Parliament have criminal cases pending against them.
The Indian Judicial system has a backlog of approximately 31 million cases. Even serious criminal cases linger in courts for 2-3 decades. Therefore, hardly any Indian politician gets convicted in a court of law.
In the rare occurrence of a court pronouncing any politician guilty, he/she gets acquitted of charges by appealing in a higher court of law.
In India, the weak state institutions fail to deliver. Therefore, the government is unable to perform even the most basic tasks like providing quality education, affordable healthcare, and proper roads. Due to a non-functional state, masses turn to politician criminals for getting their work done.
The political funding rules in India are very opaque. This has resulted in the rise of criminals as politicians. Election campaigns are costly. Voters are wooed by the election contesting candidates through alcohol, bikes, and even cash.
These criminals know that once elected to the provincial assembly or the national parliament, they would easily make loads of money through siphoning off government funds meant for various developmental work and social schemes.
The Netanyahu arrived in India on 14th January for a six-day visit. They surely must have consulted and received loads of tips from Indian politicians about tackling publicly exposed criminal as well as corruption scandals.