The state working president of the Akhil Bharatiya Hindu Mahasabha president is known for peddling fake news and making hate speeches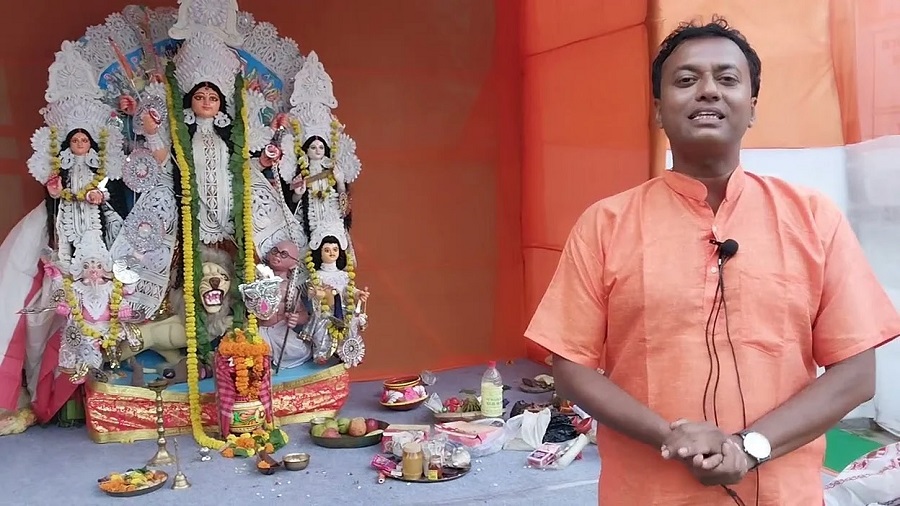 Image: YouTube Screengrab
Early last month, there erupted a controversy around All India Hindu Mahasabha's depiction of Mahatma Gandhi as an `asura` idol. This was on October 2, 2022, Gandhi Jayanti, at a Durga Puja pandal in Kolkata. The idol of asura resembling Mahatma Gandhi was installed at the pandal, following which a complaint with the Kolkata Police was filed. After having come under an agitated social media scrutiny, though the organisers denied connection to Gandhi, its state working president Chandrachur Goswami had something else to say. On his own youtube channel he says, "even though the resemblance is coincidental, we firmly believe that Mahatma Gandhi is unfit to be recognised as the father of the nation." He went further and was quoted saying, "We want Gandhi-Mukt Bharat," which, according to section 292 of the IPC that restricts people from demeaning iconic figures, is an offence.
So who is Chandrachur Goswami? And even though,very significantly, the BJP in Bengal has distanced itself from him, how connected is he with them?
According to sources, 33-year-old Goswami, who has a postgraduate degree in environmental science and a masters degree in Music, has work experience as a 'lecturer' in some universities and handles multiple responsibilities of the Hindu Mahasabha. He is also editor-in-chief of 'Swastika Digital TV', which is reportedly backed by the BJP. In 2021, when he was an active member of BJP intellectual cell, Goswami stood as an independent candidate against Mamata Banerjee in the Bhawanipur by-election in 2021. He got about 81 votes. He has also been a member of the BJP for Bengal Intellectual cell. <bengali newspaper confirming this> According to reports, videos and his own admission in the past, Home minister Amit Shah had named him as one his 'elite' members to be on the advisory committee of the team responsible for building 'Sonar Bangla'.
Chandrachur had been regularly sharing platforms at religious events and talk shows with eminent BJP members like BJP MLA, Agnimitra Paul, Hony. Director, Dr. Syama Prasad Mookerjee Research Foundation (SPMRF), the New Delhi based think tank of Bharatiya Janata Party (BJP), Anirban Ganguly, BJP MP from Bankura, Dr. Subhas Sarkar and even BJP West Bengal-State President, Dilip Ghosh.

Goswami with BJP leader Agnimitra Paul

Goswami with BJP leader Anirban Ganguly

Goswami in a panel with Subhas Sarkar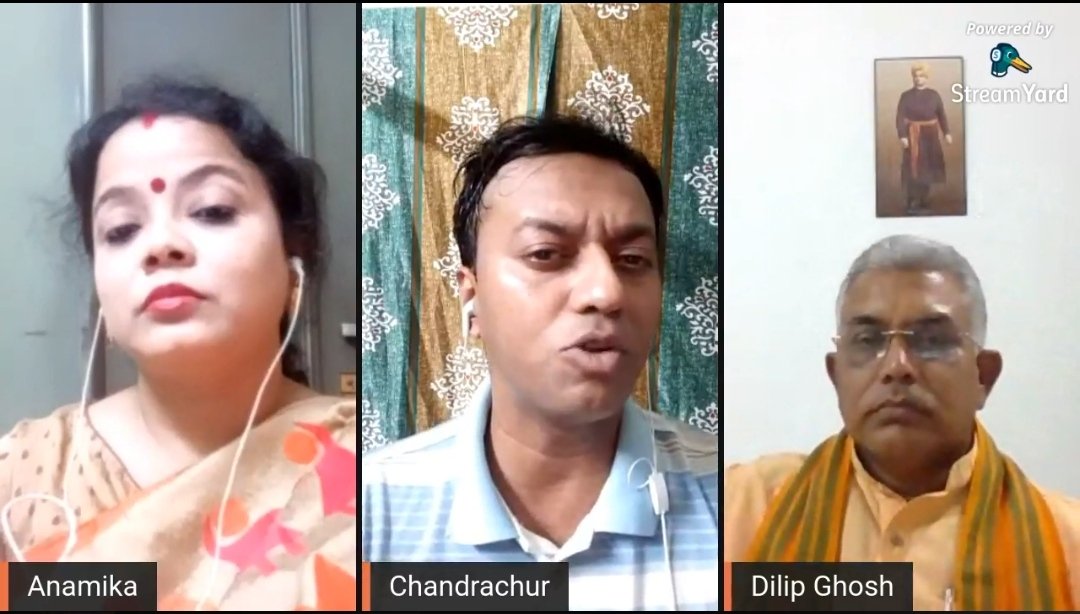 Goswami in an online panel with Dilip Ghosh
Not only BJP bigwigs, but Goswami seems to have connections in the bureaucracy as well and is often seen hanging out with personalities like ex- chief justice Susanta Chatterjee.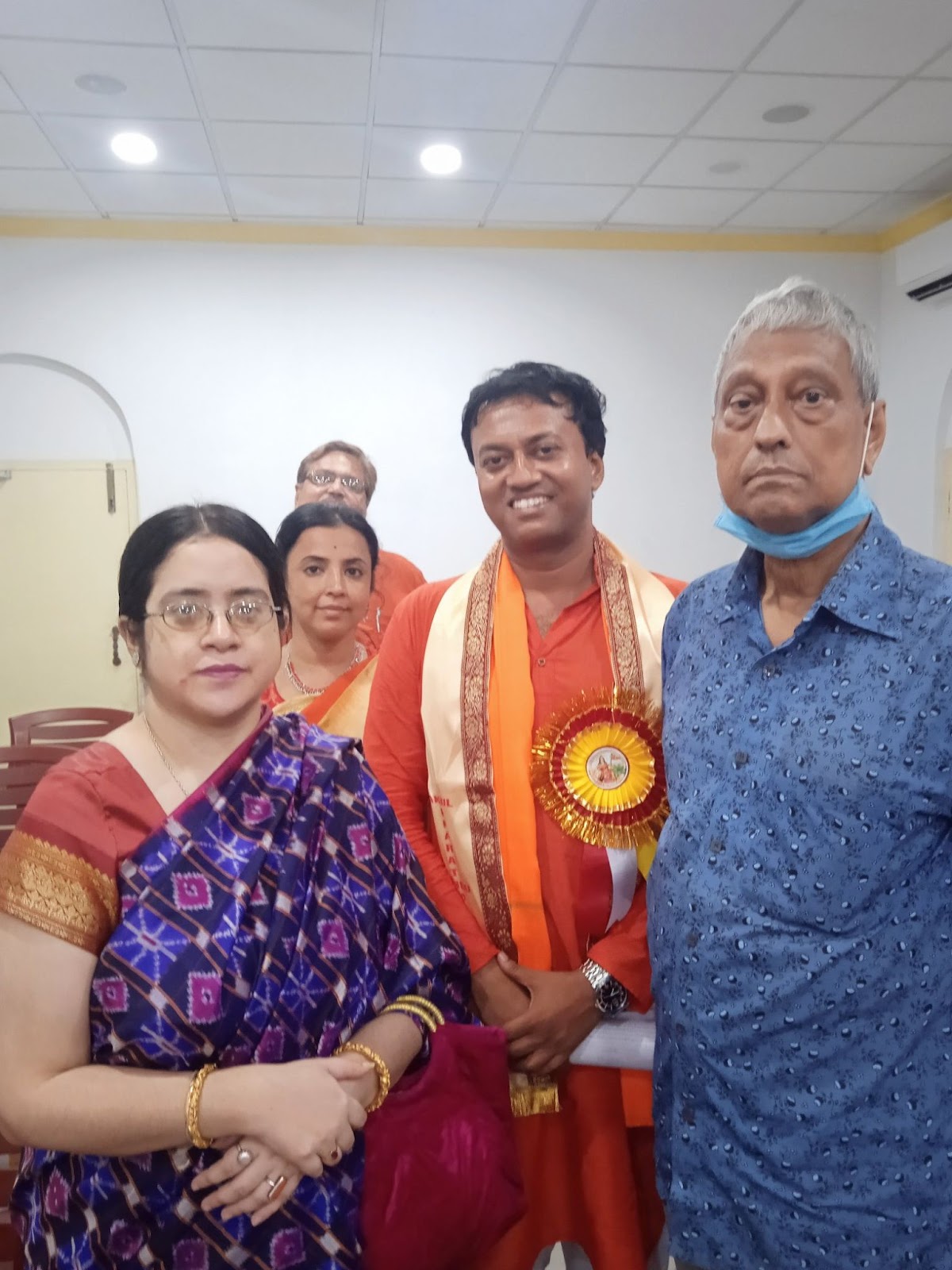 (Mr Chatterjee was Judge of the Calcutta High Court on January 1, 1986 and Judge of Orissa High Court from December 22,1994  to April 1, 1999).
Even though he enjoys close proximity with these prominent names of the BJP, the proverbial doublespeak that camouflages deep connections between various wings of the sangh parivar is evident from his public utterances. After the recent debacle, he and his organisation were quoted saying, ""The Congress and the BJP are either sides of the same coin. BJP's constitution itself says that the party believes in Gandhian socialism and Gandhian secularism. BJP toys with the idea of Hindutva for political gains. We are the real propagators of the idea of Hindu Rashtra. The only agenda of the Hindu Mahasabha is to see India as a Hindu Rashtra." But strangely on his youtube channel, Goswami has been heard promoting the BJP's Namami Gange, while claiming that Ganga is the only river in the world which can never bear any virus and absurd facts like Ganga contains 25% more oxygen than any other river. In another video, he and ABHM are even seen congratulating Yogi Adityanath on his victory in May 2022. Moreover, he has also spoken as the chief guest at the BJP trade cell. He has also been heard promoting unverified facts like – the telescope was invented by the Hindus 5000 years ago.
Occasionally, his speeches and videos even tend to communalise events and incite the minority population with provocative words such as "a call for CPI(M) leader Md.Salim to eat pork." https://youtu.be/goWvekI4Fyw (2:10 onwards). In another video, he's heard saying that it's beneath him to utter the names of individuals from the minority community while addressing them as 'lumpens'. Section 295(A) of the IPC says it's a crime to  "outrage the religious feelings of any class, insult or attempt to insult the religion or the religious beliefs of that class."
Chandrachur Goswami seems to be one of the many 'fringe-leaders' that are close to today's Indian political mainstream. They provoke and even lure an unassuming public by sensationalising social issues without dealing with social concerns that affect all sections of Indians. The recent controversy has only brought to the forefront his association with those in power and his own admission of being close with BJP leaders like Dilip Ghosh – thus disclosing, who in the political and media spectrum, have shown an steady ascent into prominence and visibility, because of the favours showered by the powerful.
It's only a matter of time that his 'hate-agenda' won't be the 'fringe' anymore – with a rapid increase in his following, online and offline –  and the general public who don't favour him,  bears the brunt of it.
Goswami is yet to be arrested by the Kolkata Police after the recent FIR against him filed on October 4, 2022.