April 6, 2019
India fuelled Hasina's decision to oust Yunus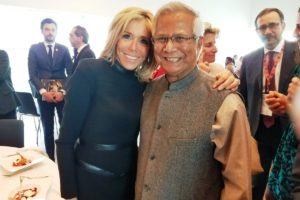 Yunus faced Hasina's direct ire after she returned to power in early 2009.
BZ Khasru | New Delhi | April 5, 2019 The Statesman

Professor Muhammad Yunus attended the Girl's Day Gala night on March 28, 2019 at the Stand Speak Rise Up Summit in Luxembourg, Europe which was hosted by Her Royal Highness, The Grand Duchess of Luxembourg and the Luxembourg Government. In this summit, he was joined by many eminent dignitaries. (Image: Twitter/@Yunus_Centre)Two popular explanations have been swirling around the world as to why Prime Minister Sheikh Hasina of Bangladesh declared war on Nobel prize winner Muhammad Yunus. First, Yunus conspired with the powerful military to exile the nation's top two politicians, while prepping himself to join politics; second, Hasina felt jealous because Yunus won the Nobel prize that she believed she deserved for her role in ending a decades-old tribal insurgency. These myths have thus far remained widely accepted at home and abroad as the reasons for the Hasina-Yunus duel.
In fact, neither one was the direct cause of Hasina's wrath against Yunus. The Awami League, the political party led by Hasina, put Yunus in the dock long before he made public his political ambitions or won the Nobel.
Abdul Jalil, general secretary of the Awami League, publicly refused to accept Yunus as non-party interim government chief to supervise parliament polls a month before he received the prize and five months before he revealed his intention to join politics.
Jalil's comments came a day after Yunus told a civil-society forum in Dhaka, the Bangladeshi capital, that he would be pleased to be the chief adviser of the caretaker administration. Jalil not only dismissed the possibility, but also opposed the Grameen Bank founder's ideas to reform Bangladesh's governance.
Awami League's bellicose attitude toward Yunus partly resulted from information Hasina received from India. New Delhi and Washington were on the same page regarding Bangladesh on almost everything, except for one: India opposed giving theocratic Jamaat e-Islami political space in Bangladesh. But the United States feared that Jamaat could turn highly radical if it was pushed underground. Delhi was also worried that Washington wanted Yunus to replace Hasina, a staunch Indian ally.
Rumours were rife in Dhaka in December 2006 that America wanted neither Hasina nor former Prime Minister Khaleda Zia to win the election set for 2007. Mohan Kumar, joint secretary for Bangladesh at India's foreign office, told a U.S. diplomat in New Delhi that sources continued to report that the United States was positioning the 2006 Nobel prize winner to run in the election. He said Bangladeshi elite speculated that America "fixed" the award for Yunus.
According to Kumar, people in Dhaka suspected that the United States arranged for Yunus to win the prize to enhance his political credentials. Although Kumar did not subscribe to the allegations, still he wanted Washington to know that the rumours were alive in Dhaka.
Kumar stated that the United States and India had a convergence on Bangladesh policy, but New Delhi was still concerned about Washington's "lack of conviction" regarding Jamaat's links to terror. He also said India "does not understand" the American view that entry into the political mainstream would moderate Jamaat. Further, he observed that America was biased toward the anti-India Bangladesh Nationalist Party, headed by Zia, and Jamaat. He noted that "the Bangladeshis are very aware of it."
Hasina perceived Yunus to be a pro-BNP element, even though Yunus denied having any links with any political party. Her suspicion deepened in 2006 when she learned that Yunus had been nominated by the BNP to be an adviser of the interim government.
Hasina found Yunus' close connection with America problematic, too. She told a cabinet meeting that Yunus was engaged in a conspiracy to undermine her government with help from his American friend, former Secretary of State Hillary Clinton.
Yunus faced Hasina's direct ire after she returned to power in early 2009. He asked America to push the prime minister to change a law that gave her control over his position as Grameen Bank chief. The interim government had removed it, but Hasina refused to ratify. All attempts by Yunus through her cabinet members had been rebuffed by Hasina.
On 10 May 2009 , Yunus sought input from the U.S. ambassador on the best way to ask Hasina to reverse her refusal. The envoy pledged to arrange a meeting for Yunus with the prime minister and put in a good word to her for him. Hasina never agreed to meet Yunus, and ousted him from the Grameen Bank in 2011 when she won a court order, culminating a two-year political guerrilla war.
Hasina was miffed by Yunus when he said that 8.5 million Grameen Bank members who represented 40 million Bengalis, or 25 per cent of the nation's total population, according an estimate by Yunus were not only citizens but also voters. This was a veiled threat that these voters could punch a mega hole in the Awami League's ballot box.
Her ire at Yunus stemmed also from the professor's public criticism of politicians as corrupt. Soon after winning the Nobel, Yunus angered the politicos by saying, "political leaders should give up revengeful politics and spiteful activities to offer a better political environment to the nation." Yunus believed that the political system was hindering Bangladesh's progress. He offered an alternative agenda and announced his plan to launch a political party, drawing a sharp public rebuke from Hasina.
The question, however, remains if Yunus wanted both Hasina and Khaleda out of politics, why didn't the BNP leader go ballistic? Khaleda rather exhorted Washington and London to protect Yunus from Hasina's fury. This overture cemented Hasina's impression that Yunus was in bed with Khaleda, politically speaking, and doomed the professor. His hobnobbing with the military and flirting with the idea of entering the messy world of Bengali politics just broke the camel's back.
(The writer is a US based journalist and author of "Bangladesh Liberation War, How India, U.S, China and the USSR Shaped the Outcome," and "The Bangladesh Military Coup and the CIA Link." This article is based on his upcoming book, "One Eleven, Minus Two: Prime Minister Hasina's War on Yunus and America")