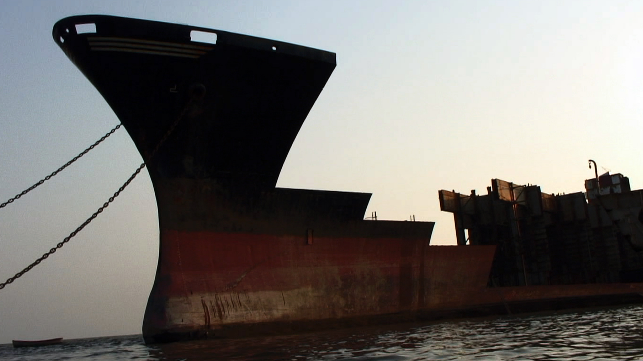 The NGO Shipbreaking Platform has published its List of Ships dismantled worldwide in 2017 in tidal beaches of South East Asia revealing the shipping industry's irresponsible shipbreaking practices and a series of human rights and labor abuses, including loss of life, at shipbreaking yards.
543 ocean-going commercial vessels were broken down by hand in yards in Bangladesh, India and Pakistan, the NGO Shipbreaking Platform reports. Greek and German shipowners continue to be on top of the list of shipping companies that opt for dangerous and dirty shipbreaking practices. Greek owners were, according to the NGO Shipbreaking Platform data, responsible for the highest absolute numbers of ships sold to South East Asia shipbreaking yards in 2017.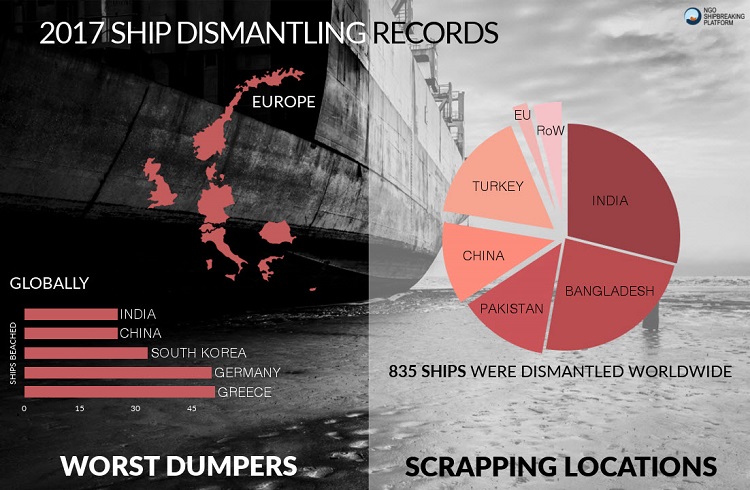 According to information independently gathered by the NGO Shipbreaking Platform through its Bangladeshi members-organizations, shipbreaking workers include migrants and children, who are subject to abusive labor practices such as dangerous and unsafe working conditions that have lead to loss of life. 2017 documented 16 deaths and 22 severe injuries in Bangladeshi yards, the cause of which varied from falling steelplates, hits by iron cabling and piping, suffocation from toxic gases and general occupational deceases from exposure to toxic fumes such as asbestos.
Apart from the immeasurable human cost, the practice of beaching vessels has a detrimental impact on the local ecosystem when toxic spills and various pollutants are released.
On top of this, the general lack of transparency in the shipbreaking practices by the shipowners and the local yard owners makes the collection and the verification of data difficult, Shipbreaking Platform reports.
Human Rights at Sea condemns these irresponsible shipbreaking practices and urges the shipping industry to engage in sustainable recycling of ships in facilities that comply with the highest environmental and working conditions standards. It is not only a matter of bad business practices, but a matter of complicity to a pattern of human rights abuses in the shipbreaking industry and to the degradation of the environment and the local ecosystem.
NGO Shipbreaking Platform is a supporting entity of Human Rights at Sea. The NGO Shipbreaking Platform is a coalition of 19 environmental, human rights and labor rights organizations working to prevent the dangerous pollution and unsafe working conditions caused when end-of-life ships containing toxic materials in their structure are freely traded in the global marketplace.