by Gaurav Tyagi      15.1.2018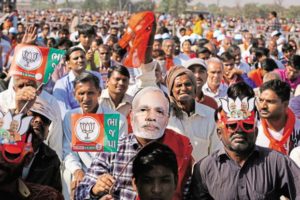 Results of the Gujarat provincial elections held in December 2017 were declared on 18th December. This province is the home base of Indian Prime Minister Narender Modi and his chief strategist, Amit Shah.
Modi's party BJP emerged as the largest party and formed the government in Gujarat however, BJP's seat share has come down. In the Gujarat assembly elections of 2012, BJP obtained 115/182 seats. This time the party won 99/182 seats.
It reveals that voters are getting disenchanted from BJP. India is facing serious challenges, and unfortunately, Modi and his team have no clue about how to address these grave issues.
The so-called demographic dividend of India is turning out to be a huge liability for the country. The job market in India has failed to keep pace with the growing population.
Of the 15.5 lakh BE/BTech seats in 3,291 engineering colleges across the country, over half — 51 percent — were vacant in 2016-17, according to All India Council for Technical Education (AICTE), the apex body for technical education in the country.
Last year, roughly eight lakh BE/BTech students graduated, but only about 40 percent got jobs through campus placement. According to AICTE data, campus placements have been under 50 percent for the last five years.
According to R C Bhargava, IIT-Kanpur chairman and chief of Maruti Suzuki, an automobile giant of India, "The reason engineering seats are going vacant is that they impart inferior quality education. Most of the graduates don't know the basics of engineering. The reason these vacancies keep increasing is that graduates can't find jobs. That's because employers don't think they are worth employing. Most people will tell you that 80 percent of engineering graduates are not employable," he says.
Rural India poses another major challenge. Farmers all over the country are agitating and complaining that instead of making profits, they are not even able to cover the input costs of cultivation on selling their agricultural produce.
Farmers want the government to increase the Minimum selling price (MSP) for their crops but even if the government increase the MSP. How will the authorities ensure strict adherence to it across the nation?
The APMC's (Agriculture Produce Marketing Committees) have created a cadre of intermediaries, who along with the complicity of these committees, form a virtual barrier between the farmer and the consumer, paying the farmer a pittance for his produce and charging end consumers an exorbitant amount for fruits and vegetables.
Vegetables are purchased at Rs. 2 or 3 a kg from farmers and then sold at 50 to 70 rupees per kg to urban consumers by such middlemen. This setup has been going on for decades in every town and city of India.
Millions of urban Indians pay artificially higher prices, and the majority of farmers are underpaid due to this flawed system. The profits are pocketed by the middlemen, who do not even pay taxes on these huge earnings. It is a common practice for them to store money in cash and not in banks.
Political parties in India do not antagonize this segment because politicians are either directly involved or receive hefty political donations from such middlemen traders.
APMC's must be abolished immediately. Farmers should get direct access to the end consumer through the elimination of the intermediaries. This would ensure a better monetary return for the farmer but who will bell the cat?
Eight more Indian provinces would be going to polls this year in 2018. The national elections are due in the first half of 2019. Therefore, Modi government would focus only on populist schemes instead of introducing much needed radical reforms in any sector.
Due to the large number of illiterate as well as semi-literate masses obsessed with caste, community, and religion; democracy in India has turned out to be a wholly failed governance model.
The party in power mainly focuses on 'making hay while the sun shines' during its term in office. The umpteen number of opposition parties only add to nuisance factor on every issue. Constructive criticism does not exist in Indian politics.
This sorry state of affairs in the country results in problems not being tackled by focusing on their causes. Instead, useless half-baked, illogical measures are deployed, which further complicate issues.
No political party or politician in India, unfortunately, has the vision or will to address the serious challenges of rising urban unemployment and the rural farming distress facing the country.