India aims to roll out its Covid-19 vaccines Covishield and Covaxin to its neighbours to boost its regional importance
But analysts say New Delhi must tread cautiously as Covaxin has not completed phase three trials and any side effects could cause a diplomatic crisis
On January 3, India's drug regulator authorised two vaccines for emergency use – Covishield and Covaxin, a home-grown vaccine by the Hyderabad-based giant Bharat Biotech which has not yet completed human trials. Photo: AP
Multiple senior officials have emphasised that India's priority is to supply vaccine doses to its neighbours, a week after the country's drug regulator authorised two vaccines for restricted emergency use – Covishield and Covaxin, a home-grown vaccine by the Hyderabad-based giant Bharat Biotech.
But phase three trials for Covaxin have not yet been completed, while insufficient data in the public domain and the opaque approval process have triggered concern among experts that regulators are jumping the gun.
Anant Bhan, a researcher in global health and bioethics based in India, said a lack of transparency from regulators who cleared the vaccines for use "could hurt the credibility of Indian vaccine science and trust in the regulatory processes".
In Modi's India, political row erupts over home-grown Covid-19 vaccine
5 Jan 2021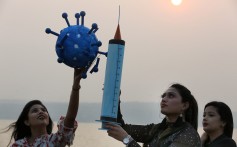 Bordering nations like Sri Lanka, Bhutan, Bangladesh, Myanmar and Nepal, and several others beyond such as South Korea, Qatar, Bahrain, Saudi Arabia, Morocco and South Africa, have expressed keen interest in procuring vaccines manufactured in India – the pharmaceutical powerhouse of the world, accounting for over 60 per cent of the global supply of vaccines.
On Thursday, Bangladesh's drug regulator approved Covishield, developed by Oxford University and British-Swedish drug maker AstraZeneca, and manufactured by Serum Institute of India. Bangladesh signed an agreement with Serum to acquire 30 million doses in November.
During his three-day visit to Sri Lanka this week, India's foreign minister S. Jaishankar promised the country will receive India-manufactured vaccines as soon as they are ready for export.
has said, India sees international cooperation in this area as its duty," Jaishankar said in Colombo.
Nepal's foreign minister Pradeep Gyawali will visit New Delhi on January 14, where a vaccine deal is expected to be finalised alongside other agreements.
South Africa's health minister Zweli Mkhize announced on Thursday that his country will receive 1 million doses of Serum vaccine this month and another 500,000 by February.
In December, over 60 foreign envoys visited Hyderabad, the vaccine manufacturing hub in South India, in a tour arranged by India's external affairs ministry as part of its government outreach.
When speculation emerged that India had banned vaccine exports until local demand was satisfied, New Delhi immediately clarified there was no such prohibition, with Prime Minister Narendra Modi saying on Saturday that India would continue exporting medicines including vaccines.
Foreign ministry spokesperson Anurag Srivastava, in response to queries on whether the Indian government had inked any formal agreements to supply vaccines to its neighbours, would only say that "India's vaccine production and delivery capacities will be used for the benefit of all humanity in fighting this crisis."
Harsh Pant, chief of the strategic studies programme at the New Delhi-based think tank Observer Research Foundation, said India has been actively engaging with its neighbours by supplying health provisions since the pandemic broke out.
"As we go forward, 'vaccine diplomacy' becomes a part of this continuing narrative. There are two elements – India wants to be seen as a responsible regional power and distinguish itself from malevolent actors like
. Second, not only India would have logistical problems if the Covid-19 crisis is not resolved in its neighbourhood – the issue of India getting projected as a benevolent power in South Asia will not happen," Pant said.
"The symbolism is stark and if India can make provisions for vaccines of this critical nature for neighbouring countries at a time when we also need a large supply, it showcases a certain generosity. Perhaps, India would like to use this as a tool of diplomacy," said Pant.
However, while such 'vaccine diplomacy' efforts are unlikely to be a game-changer to counter China's increasing influence in countries like Nepal or Sri Lanka, they could place India in a better position to improve critical geopolitical matters.
New Delhi is treading cautiously in these measures since any side-effects or contamination during transport will blow "into a bigger diplomatic crisis", said Pankaj Jha, professor and associate dean of strategic affairs at OP Jindal Global University.
Such concerns are more pronounced in Nepal and Pakistan given India's strained relations and China's overarching presence in these countries, Jha added.
An official with India's foreign ministry said on condition of anonymity that the "China factor" will certainly play a role in India's vaccine efforts in neighbouring countries but "will not be the only element".
How will India vaccinate 1.3 billion? Its army of nurses and midwives
28 Dec 2020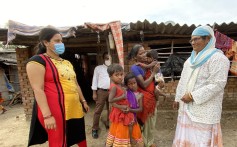 India plans to domestically roll out vaccines this month following a successful dry run in several states. It aims to give jabs to about 300 million people by July.
The chiefs of Bharat Biotech and Serum were engaged in a war of words over the quality of respective vaccines after the emergency approvals, but they later patched up.
Bharat Biotech and Serum have declined to share details about their deals to supply other countries. Both currently have a combined stockpile of 80 million doses.